100% Compatible

No need to start from scratch when switching to the convenience of online
With Markbook Online we started with the interface from our previous markbook systems because few people like learning a new application interface, or have the time to do so. All of the menus are organised in a similar way with the top level menus of File, Edit, New, Print, Action, Tools, Options, Help. The toolbar has buttons in the same order as SM-Marks.
To work in a browser there are differences to the navigation that are detailed in the 10 Minute Guides and the Video Tutorials. As part of this redesign we made sure that everything can work on a touch screen device without requiring a mouse or physical keyboard.
With tutorial videos, and a complete help system with a search function, Markbook Online simplifies the transition from a markbook running on local workstation, to the online solution.
If you have not used our other markbook software, you can be confident that all calculations have been rigorously road-tested and relied upon by teachers processing their H.S.C. and junior student results for over two decades. Weighting, standardising, moderating, grading and ranking are all part of Markbook Online with reliable formulae built-in. The calculations are identical to SM-Marks so you can trust the mathematics and use a familiar process with confidence.
Easy to use Interface

Familiar commands, menus and toolbar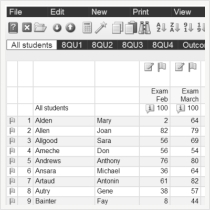 Markbook Online copies the interface layout of SM-Marks to make it easy to learn.