Desktop and Mobile

Use any platform, mobile, desktop, tablet, with mouse or touch interface
Teachers no longer want to be restricted to a single type of device or platform to do their work. Markbook Online works on desktop and mobile devices with equal ease. Whether you are at a PC with Windows or a Mac and OS X, Markbook Online provides the same features and experience. All the popular web browsers are supported: Internet Explorer or Safari, Chrome or Firefox are equally suitable. Carefully coded to not require special plugins or browser features, Markbook Online really can work anywhere. But the desktop is only the beginning.
Mobile devices are equally supported. Apple iPad and iPhone, or an Android tablet with a touch screen are ideal for using Markbook Online on the go, or when a desktop workstation is unavailable.
When used on a small mobile device such as an iPhone, the interface scales down for efficient use of the smaller screen so you can use Markbook Online in the most effective way, while still allowing full use of the screen when used from a workstation.
Marks on the Go

No longer be restricted to the desktop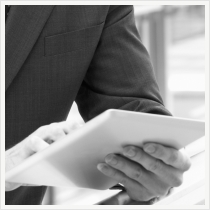 Any device with a web browser can use Markbook Online. Provided you have an Internet connection you can login and open the same markbooks that you do on the desktop.